This natural roofing material, made from mined, fine-grain sedimentary rock, is broken into tiles or shingles with the edges either left rough or polished to a smooth edge to make roofing tiles. For generations, homeowners have chosen slate roofs to give their buildings a distinctive, elegant appearance.
Maryland's Trusted Slate Roofing Contractor
Slate roofing is a popular choice in our area, especially in the historic districts of many of the most desirable neighborhoods in Maryland and Washington, DC. Homeowners appreciate that slate roofing provides decades of virtually maintenance-free roofing, superior aesthetics, and increased home value. We are proud of our reputation as a quality slate roofing contractor in Maryland. Call Dominion Roofing today for a FREE no-obligation estimate to install or repair your slate roof.
Get a FREE no-obligation estimate today.
Benefits of Slate Roofing
Slate Roofing Installation
Slate roofing requires different techniques and skills from those needed on asphalt and other types of roofing. Slate shingles are attached to the roof by drilling holes in each shingle and nailing them to the roof supports. Since slate shingles don't expand or contract with the weather like wooden shingles, they are set closely together, with each layer slightly overlapping the next.
The roofers at Dominion Roofing know that there are unique challenges when installing slate roofing on many roofs. However, we have the experience and skills necessary to navigate any challenge—allowing us to install a beautiful slate roof with the care and precision needed for decades of trouble-free use.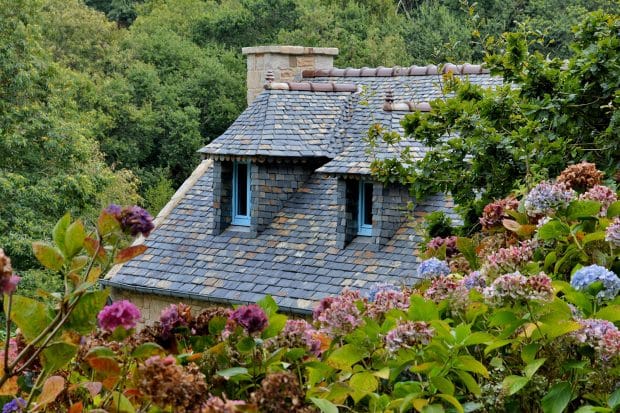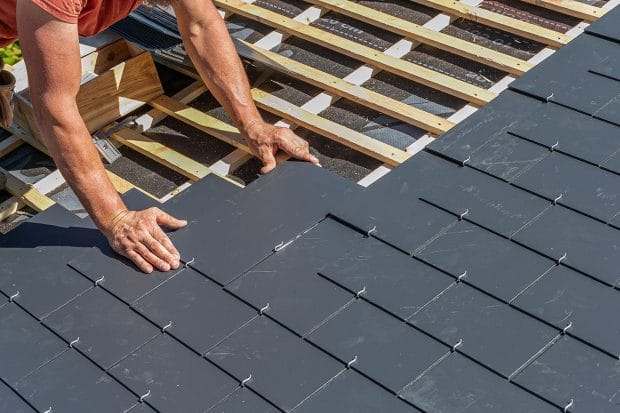 Though slate roofs are very durable and generally require little maintenance, even the best slate roof may need a repair from time to time. The installation process may damage some shingles, or debris from a chimney or vent may crack them. Fortunately, it's an easy process for a skilled roofing contractor to replace a few individual shingles.
With more than 25 years of slate roofing repair experience, the experts at Dominion Roofing have seen and repaired all types of slate roofing problems. From small crack repairs to major damage caused by falling trees, Dominion Roofing can get your roof repaired fast.
Why Choose Dominion Roofing Co. For Slate Roofing?
Slate roof installation and repair are not tasks you want to leave to a seasonal handyman or someone who doesn't specialize in roofing projects. The materials are too expensive to waste on an improper installation job. Dominion Roofing offers the skill and craftsmanship that comes with 25 years of roofing experience so that you can enjoy your slate roof for years to come.
Get a FREE no-obligation estimate today.