Homeowners appreciate that slate roofing provides decades of low-maintenance roofing, superior aesthetics, and increased home value. This natural roofing material, made from mined, fine-grain sedimentary rock, is broken into tiles or shingles with edges left rough or polished to a smooth edge to make roofing tiles. For generations, homeowners have chosen slate roofs to give their buildings a distinctive, elegant appearance. Slate roofing is a popular choice in our area, especially in the historic districts of many desirable neighborhoods.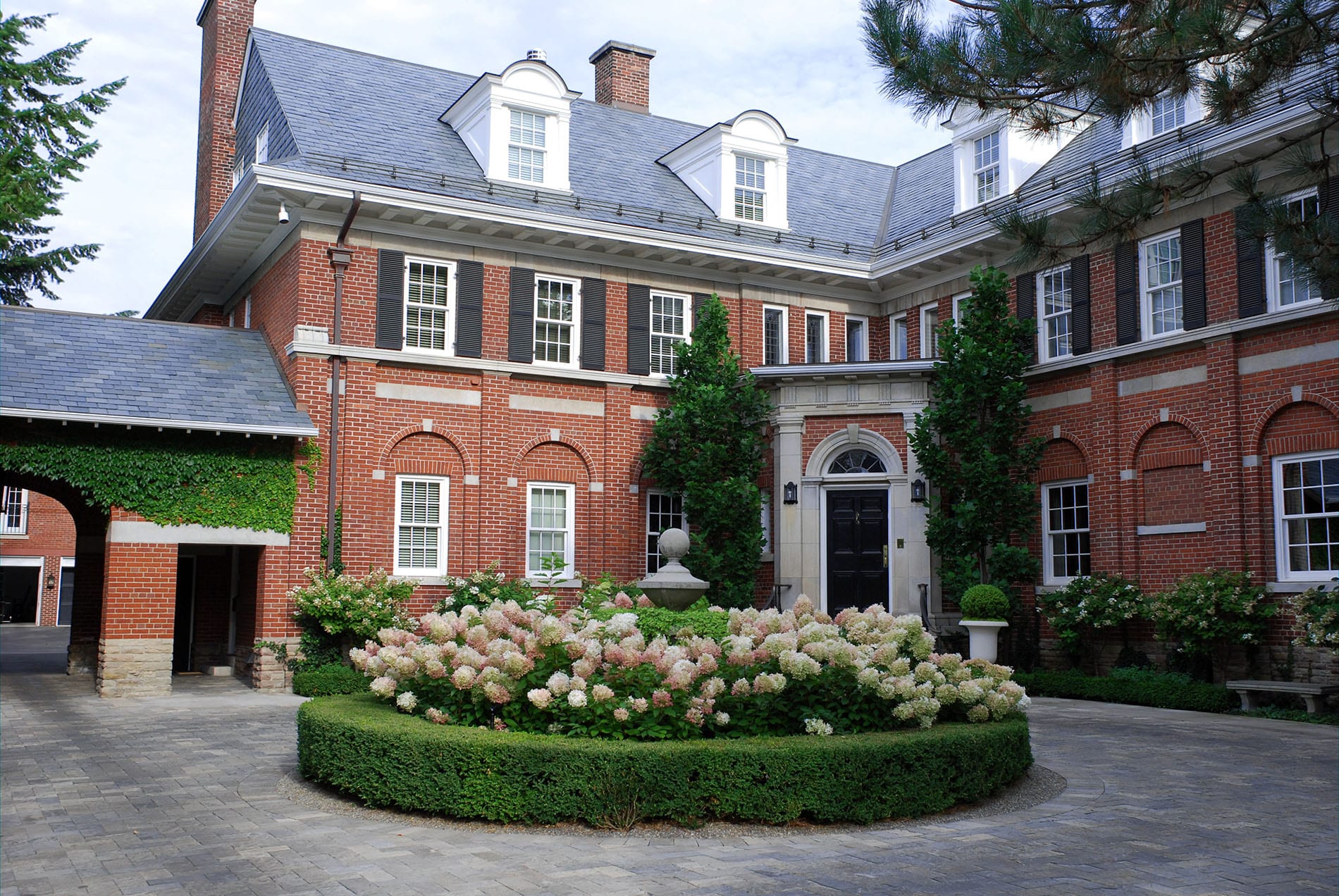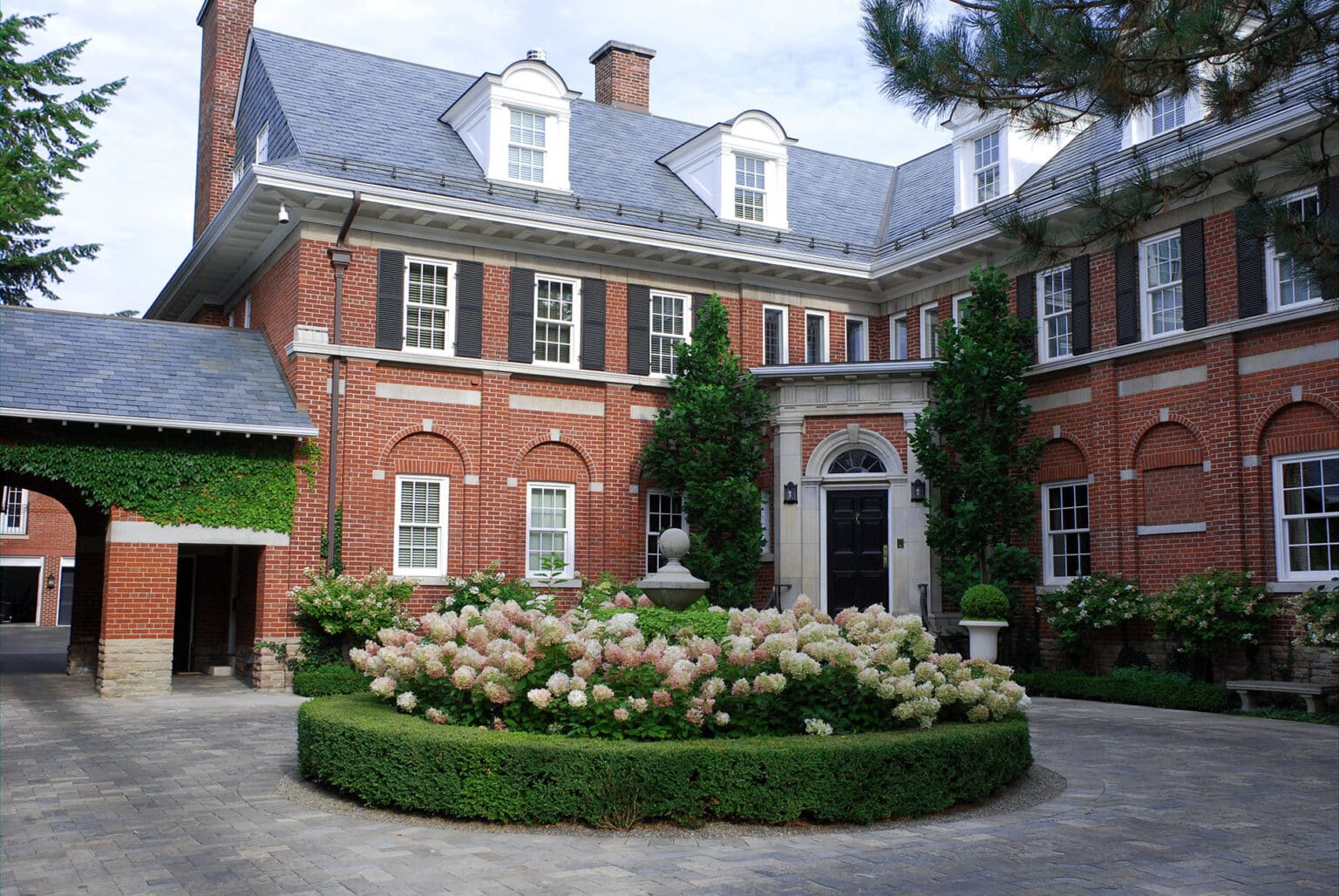 Slate, one of the oldest roofing materials in the eastern U.S., is the preferred roofing for many period homes in Maryland due to its historical authenticity and aesthetic properties. Slate roof installation is also an excellent option to add traditional elegance and value to newer properties.
Slate shingles are attached to the roof by drilling holes in each shingle and nailing them to the roof supports. Since slate shingles don't expand or contract with the weather like wooden shingles, they are set closely together, with each layer slightly overlapping the next. Slate roofing requires different techniques and skills from those needed on asphalt and other types of roofing. We do not recommend leaving this task to a seasonal handyman or someone not specializing in slate—the materials are too expensive to risk.
Dominion Roofing has the experience and skills to install a beautiful slate roof with the care and precision for decades of trouble-free use.
Slate roofs can outlast the life of the homes they protect. Because of their resilient nature, it's a rare occasion that your slate roof will need replacing. Slate roof repair is often all that's in order, which keeps your budget intact and your home protected. The most common areas for slate roof repair are missing or damaged flashing or slate tiles. Fallen tree branches, debris from a chimney or vent, or even the slate installation process may damage or crack some shingles. Many homeowners think contacting a roofing company for just one or a few slate tiles is overkill. Still, we recommend getting a free roof inspection at the first sign of damage to your slate roof. Damaged tiles contributing to leaks or visible roof damage need replacing, and the sooner, the better because minor issues—especially where water is involved, can lead to significant problems if left unaddressed.
A skilled roofing contractor can quickly address these issues by replacing a few shingles.
Maryland's Slate Roofing Experts
Dominion Roofing Co., led by Bill Fowler, is a slate roofing contractor in business for over 30 years. We have provided high-quality repairs and replacements for all slate roofing problems, from minor crack repairs to significant damage caused by falling trees, to local homeowners throughout Montgomery County.
Get a FREE no-obligation estimate today by clicking the button below or calling us at (301) 942-2009.
"Bill Fowler and his Dominion Roofing Co. just installed a new roof on my home in Bethesda, and did a great job at a very reasonable price. I am very pleased with the instillation and finished appearance of
...
the roof. I recommend Bill and his team very highly."
"I could not be more pleased. Dominion Roofing put a new roof on my house, the job was superb, the clean up was excellent, and the price was good. Bill Fowler was the only roofer I talked to that seemed to know what
...
he was doing. I recommend them wholeheartedly!"
"Company was very responsive came out immediately. Got the new roof installed right away he recommended a good quality shingle that I was very pleased with really makes the house look great would
...
definitely recommend dominion roofing in the future."
Benefits of Slate Roofing
Homeowners across the area desire slate roofs for many reasons, chief among them the low maintenance and hardiness of the slate material. This beautiful and natural roofing material is durable enough to withstand most of what Mother Nature sends and, in many cases, will last 80 years or more.
Each tile of this natural material has a slightly different hue that blends to give any structure a deep and earthy loveliness. Slate is particularly well-suited to historic homes.
A well-installed slate roof can last up to 100 years. Slate roofs were prevalent in the late 19th century and early 20th century. Some of these 100-year-old roofs are still intact!
Made from sedimentary rock, slate tiles are among the toughest roofing materials available. Slate roofs are non-combustible and resist water, wind, and storm damage.
Some homeowner's insurance companies offer discounts for homes with slate roofs. Such roofs also require little maintenance to keep them looking clean and beautiful.
Potential Challenges for Homeowners
The up-front cost to install or replace slate tiles is higher than asphalt, metal, tile, or cedar shakes, so many homeowners hesitate to invest in it. Also, homeowners have a comparatively limited set of roofing contractors to inquire with for services. While there are many roofers in Maryland, they do not all have the specialized skillset to work on slate roof repair.
Dominion Roofing Co.—Your Local Slate Roofing Contractor
Ensuring your contractor has slate roofing experience is vital to protecting your investment in this beautiful material. From our office in Kensington, Maryland, Dominion Roofing Co. has provided slate roofing service for over 30 years, including for many historic homes in Bethesda, Chevy Chase, Germantown, Kensington, Potomac, and other neighborhoods in Montgomery County.
Dominion Roofing Co. will come to your home, inspect your slate roof, and, if necessary, provide high-quality repair and replacement service to preserve your roof and everything under it.
Get a FREE no-obligation estimate today by clicking the button below or calling us at (301) 942-2009.
"I got easily a dozen quotes over the last three years before finally pulling the trigger with Bill Fowler, who was the least pushy of any of the companies I talked to. Straightforward answers with no upselling and always very responsive to my many questions."
"Dominion Roofing just complete a new roof installation on my home. Perfect!! Looks fantastic, the price was very reasonable, and dealing with Bill was a pleasure. He's incredibly responsive from job estimate to completion. And he's a stickler about cleanup
...
, so you'd never know that a work crew had been there. Second time I've used Dominion. Hope I never need him for a third time, but certainly wouldn't hesitate to call Bill if I did."
"Bill replaced my roof in 2017. He and his team did a great job. The roof is in mint condition 5 years later and I have not had any issues with it. I recommend Dominion Roofing to anyone needing roof work of any kind."