A cedar shake roof consists of individual wooden, rectangular shingles attached in layers over a waterproof under-layer. Splitting the wood into shingles exposes and highlights the natural gain, creating the pleasing aesthetic quality of a cedar roof. Your cedar shake roof is truly one of a kind, and that customized appeal will add value to your home. New cedar has a rich honey-brown color that turns a golden ash tone as it ages.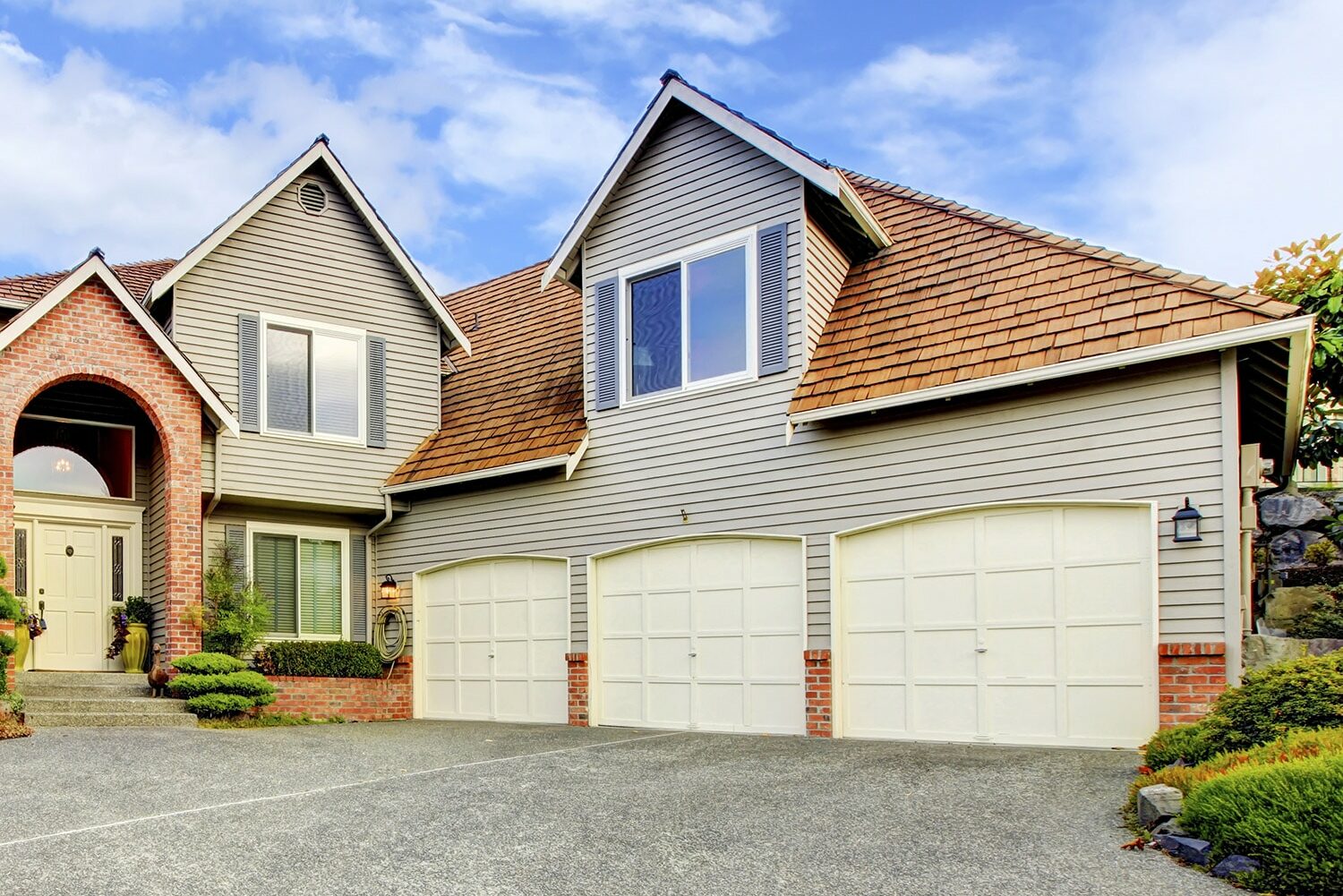 If you are tired of the same old asphalt shingle roofs that look like every other roof on the block, consider a cedar shake roof. With distinctive, rustic, country-estate flair, cedar shingles are an excellent choice for your new roof. Homeowners also prize its durability. This hardy wood can withstand extreme seasonal changes in the eastern United States. Our snow and ice accumulation, thunderstorms, high wind, heat, and humidity do little to damage it. As a result, your cedar roof can last up to 50 years with proper care.
Choose from many cedar shake colors, styles, and configurations.
All roofs need occasional maintenance, especially to protect against roof leaks. Many homeowners avoid contacting a professional roofer because they anticipate needing a costly new roof. However, cedar shake roof maintenance can often fix the problem and give homeowners more years of beauty and performance. We recommend a cedar roof inspection at the first sign of leaks or damage to your cedar shake. Water damage can quickly get out of hand. If left unattended, comparatively minor issues, such as shake replacement or flashing repair, can lead to more significant problems, such as structural damage.
Maryland's Cedar Shake Roofing Experts
Start with an estimate from Dominion Roofing, a local company led by Bill Fowler. Bill and the team have been installing and repairing cedar shake roofs for over 30 years. We provide homeowners with free inspections, no-pressure quotes, and reliable cedar shake roofing installation, repair, or maintenance expertise.
Get a FREE no-obligation estimate today by clicking the button below or calling us at (301) 942-2009.
"Excellent service from Bill Fowler. Bill brought me many samples to choose from and was very patient with me while I tried to make a decision. Every time I arrive home I marvel at how beautiful my new roof looks! I highly recommend Dominion Roofing."
"Bill is fantastic. He helped with the design and installation of our Ecostar roof. It was a complex job with many angles and pitch changes. His team was professional and the daily clean up was amazing. Bill was a great communicator and kept us
...
up to date on the progress of the job. We would definitely recommend Bill and Dominion roofing for anyone considering replacing their roof. He was a pleasure to work with."
"Excellent experience with Dominion Roofing. This was my second experience with Dominion and as in the previous time they were quick to offer a fix to my roofing issue. They were able to respond reasonably to obtaining materials and
...
scheduling me in for the repair. When there was an issue with weather and material procurement the kept me up to date. Trust this company to solve your roofing issues."
Benefits of Using Cedar Shake Roofing
Cedar shake roofs offer many benefits over other forms of roofing, including:
A cedar shake roof can transform the exterior of your home and give it a one-of-a-kind country estate look. Cedar roofs go with most architectural styles, from cottage to traditional.
Your new cedar shake roof may be the last roof you'll ever have to put on your house. Even if you don't intend to stay in your home for 50 years, installing a cedar roof can help boost your property value, as the prospective buyers will realize they won't have to replace the roof anytime soon.
Unlike many other types of wood, cedar is insect-resistant, so you don't have to worry about your new roof inviting a swarm of pests to your home. Cedar shake also stands up to hail and storm damage, something that can wreak havoc with an asphalt roof and something Maryland homeowners are all too familiar with. Some insurance companies even discount homeowner's policies for homes with cedar shake roofs.
Cedar makes a good insulator for your home, and the naturally soft color doesn't absorb the summer heat as an asphalt roof does.
Potential Challenges for Homeowners
As lovely and as durable as a cedar shake roof is, such a roof is not suitable for every home or every homeowner. For one thing, a cedar roof is quite a bit more expensive than an asphalt shingle roof.
Many homeowners will notice that mildew and moss can grow on their shakes—a common problem because cedar is a natural material. When this happens, water can become trapped and damage the shakes or degrade the flashing and cause leaks. Fortunately, cedar roof maintenance can eliminate these risks and reduce repair costs, helping homeowners avoid needing a more costly roof replacement.
Dominion Roofing Co—Your Local Cedar Shake Roofing Contractor
If you select our company to repair, replace, or install a new roof, we'll provide fast, high-quality cedar roofing without the upsell you'll get from other contractors. We bring decades of expertise in this favored roofing material and stand behind our work.
Dominion Roofing can help you maintain your cedar shake roof through regular inspections or install a beautiful new roof. Our professional cedar roofing contractors know what to look for as a source of potential damage to your existing cedar shake roof and will advise you of the remedy. By staying on top of maintenance now, you can reduce costs and enjoy your roof for decades.
Get a FREE no-obligation estimate today by clicking the button below or calling us at (301) 942-2009.
"Bill replaced my roof in 2017. He and his team did a great job. The roof is in mint condition 5 years later and I have not had any issues with it. I recommend Dominion Roofing to anyone needing roof work of any kind."
"Bill came out to our home the very next day after our initial call. He diagnosed the problem efficiently (we had 2 other companies come out- gutter and roofing- that could not properly identify the issues we were having
...
with water leaking/overflow). He sent estimates for the repair cost (temporary fix) as well as the cost to completely replace the shingles with proper materials for the low slope roof we have that was most likely causing much of the issue (long term fix). His prices are competitive and honest. We opted to get the repair and replace the roofing material and then we got hit with snow storm after snow storm. As soon as the last storm moved out and enough melt had occurred, Bill was texting me to get the job done the very next day. He and his team came on a Friday and were done quickly, efficiently and didn't leave a scrap of debris on my property. He followed up multiple times over the following week to ensure there were no water issues as it rained the day after the work was completed. I highly recommend their services. A great, qualified and easy to work with company. Thank you for a wonderful experience!"
"I could not be more pleased. Dominion Roofing put a new roof on my house, the job was superb, the clean up was excellent, and the price was good. Bill Fowler was the only roofer I talked to that seemed to know what
...
he was doing. I recommend them wholeheartedly!"