Your home is your most significant investment, your place of refuge, and the space in which you want to feel safe and secure. Therefore, the maintenance of your home is not something to take lightly. When you require exterior work, including roof repairs, 
siding installation
, and 
gutter repair
, you can rely on Dominion Roofing Company. We have been serving the people of Silver Spring, Maryland, for almost 30 years, and we are committed to excellence within this community.
Dominion Roofing in Silver Spring, MD
Contact us today to schedule a roof inspection or repair service.
Call us at (301) 477-8196 or simply complete the contact form.
Get a FREE no-obligation estimate today.
Roof Repair in Silver Spring, MD
The weather here in Maryland can be tricky – bringing us thunderstorms, ice, and strong winds. All of these occurrences can damage our roofs through downed limbs, destructive hail, and more. When you need a roof repaired quickly, turn to Dominion Roofing, the company you can trust to understand the urgency of your needs.
Sometimes, the damage to our homes from the weather isn't entirely apparent as a tree trunk through the shingles. However, problems such as leaks and water infiltration can lead to costly interior repairs caused by rot and mold. Contact Dominion Roofing for a no-obligation, FREE inspection to determine the extent of the damage to your roof. Then, we'll work with you to repair or, if necessary, replace your roof and help you stay within your budget.
Click here to learn more about our roof repair services in Silver Spring, MD.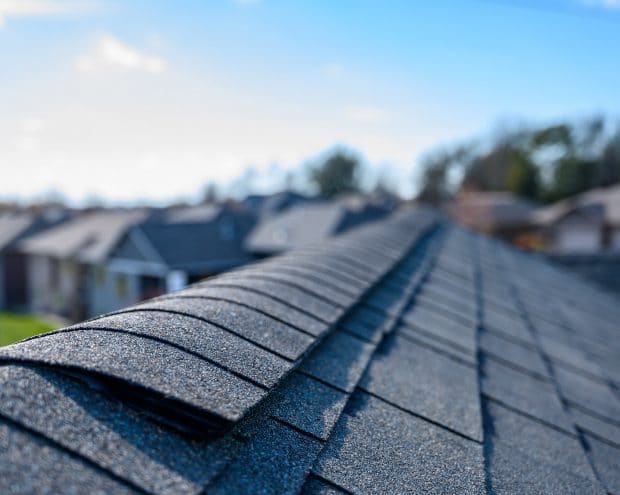 Roof Replacement in Silver Spring, MD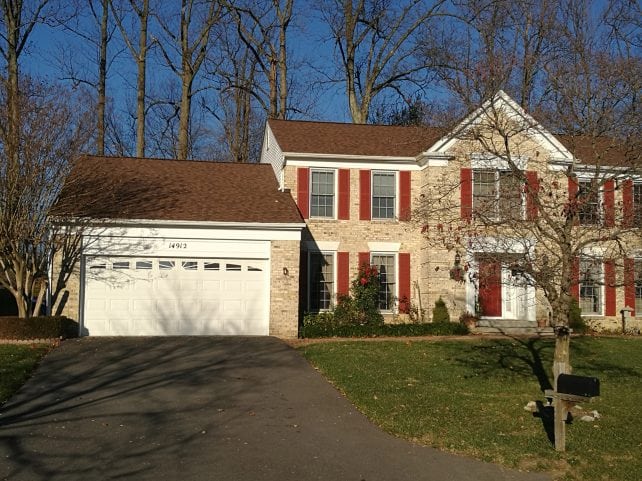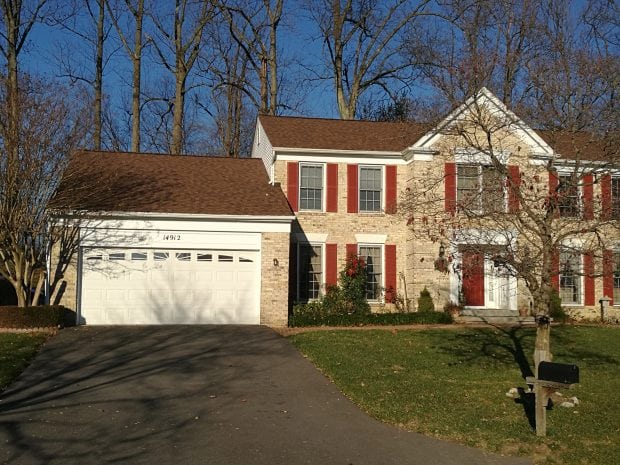 Even if we had perfect, sunny, 72-degree weather year-round, time would take its toll on your home's exterior. Your roof, gutters, and flashing get worn down, and your siding may need updating simply because of your home's age. As one of Montgomery County, Maryland's best roofing contractors, we are here to help.
Featured Project: Roof Replacement in Silver Spring, Maryland
The nearby image shows a finished roof replacement for one of our client's homes in Silver Spring. This particular job was a complete tear-off, including some decking replacement. The shingles are Certainteed Landmark in Burnt Sienna. This color is an attractive choice that matched well with the house, and the customers are pleased.
As always, Dominion Roofing can handle all of your roofing needs, from complete tear-offs and replacements to repairs and more. See more completed roofing jobs on our blog.
Call a Trusted Roofer in Silver Spring, MD Today!
We offer no-obligation estimates and will inspect your roof should you suspect a leak or water stain is the result of roof damage. Contact us for all of your exterior home and business projects. There's no better way to protect your home or business than with a high-quality roof from Dominion Roofing Co.
Get a FREE no-obligation estimate today.