Your home is your castle, your refuge from the world, and your most significant investment. Protecting your home isn't a job to be taken lightly. When you need roof repairs, gutters replaced, or siding installed, you can trust the professionals at Dominion Roofing Co. We've been serving homeowners in Maryland and Northern Virginia for nearly three decades, and we aren't going anywhere.
We are very happy with our experience with them. We did a lot of research before selecting them. My husband and I are on the committee for the HOA Maintain and Construction Committee.
No matter the cause or the extent of your roofing needs, Dominion Roofing Co. has the expertise and experience necessary to complete your roof repair project, fast.
Contact us today to schedule a roof inspection or repair service. Call us at (301) 942-2009 in Maryland or simply complete the contact form!
Roof Repair Services in Olney, MD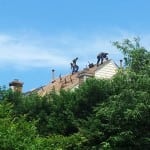 Residents and business owners in our part of the country face a variety of weather events. Winter ice storms can bring down tree limbs, and summer thunderstorms often result in leaking roofs. Even damage from tropical storm systems is not entirely uncommon. When the unexpected happens, Dominion Roofing Co. is the contractor you can rely on to provide timely service of the highest quality.
Although hail damage isn't quite as dramatic as a fallen tree, it can still cause severe issues including leaks and water infiltration, which can lead to costly interior problems, such as rot and mold. Contact Dominion Roofing Co. for a no-obligation inspection to find out the extent of the damage to your roof. We'll work with you to repair, or, if necessary, replace your roof, and help you stay within your budget.
Roof Replacement Services in Olney, MD
Whether your existing roof is old and in a state of disrepair or you want to upgrade to a beautiful slate or cedar shake roof, we have the products and expertise necessary to make your roof replacement project a success.
With more than 25 years of roof replacement experience in Maryland, Dominion Roofing Co. has established itself as one of the most trusted roofing companies serving Olney, MD.
New flat (TPO) Roofing in Olney MD
Here is a recently completed job in Olney MD. This was a tearoff of old materials. There was a server leak near the siding so we cut the siding back and installed the TPO under sufficiently. We also tied the other side in to cedar shake Roofing.
Commercial Roofing in Olney, MD
Call on Dominion Roofing Co. for your Olney, MD commercial roofing needs as well. We approach your commercial repair and installation with the same care and dedication we offer our residential customers. We respect your need to do business and will do everything possible to keep you operational. We honor your expectations, and will complete your project, no matter how big or how small, in a timely, efficient, and cost-minded manner.
Talk to A Trusted Maryland Roofer in Olney, MD Today!
If your home or business is in need of a roofing company in Olney, MD, trust the one roofing contractor you know will get the job done. Dominion Roofing Company will make sure your roofing project is completed in a professional and timely manner. We offer no obligation estimates, and will come inspect your roof should you suspect a leak or water stain is the result of roof damage.
Contact Dominion Roofing for all of your home and business roofing and exterior projects in Olney, MD. There's no better way to protect your home and your investment.