Dominion Roofing Co., based in Kensington, has been serving home and business owners in Montgomery County, MD, for more than 30 years. We are the local roofing contractor you can rely on for high-quality exterior services, including gutter repair, siding installation, inspections, repair, and roof replacement in Montgomery County, MD.
Whatever the cause or extent of your roofing requirements, Dominion Roofing Co. has the expertise and experience necessary to complete your exterior home or business project quickly.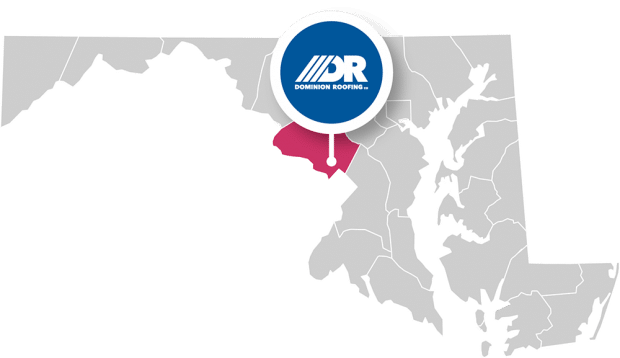 We take our local reputation seriously.
Our dedication to superior customer service and quality workmanship is what separates us from other roofing companies in Montgomery County. See what our recent customers have to say:
Get a FREE no-obligation estimate today.
Our Montgomery County MD Roofing Services
Dominion Roofing has been repairing and replacing weather-damaged roofs in Montgomery County, MD, for decades. We will do everything possible to repair your roof and secure your home or business as soon as possible.
Browse our Roof Repair Services.
Other Exterior Improvements
Although "roofing" is our middle name, we offer many other home exterior services as well. Dominion Roofing is your go-to contractor in Montgomery County, MD, for all exterior services. Our professional team can assist with home improvements such as siding installation, gutters, soffits, and more!
When you need the professional services of one of Montgomery County's top home roofing contractors, contact Dominion Roofing. We will provide a premium selection of roofing systems from leading manufacturers and minimize disruption while delivering outstanding customer service. We offer roof replacement of flat roofing, cedar roofing, shake roofing, asphalt shingles, and much more.
Browse our Roof Replacement Services.
Call on Dominion Roofing for your Montgomery County, MD commercial roofing needs. We approach your commercial repair and installation with the same care and dedication we offer all customers. We respect your need to do business and will do everything possible to keep you operational. We honor your expectations and will complete your project, no matter how big or how small, in a timely, efficient, and cost-minded manner.
Talk to a Trusted Roofer in Montgomery County, MD Today!
We offer no-obligation estimates and will inspect your roof should you suspect a leak or water stain is the result of roof damage. Contact Dominion Roofing for all of your exterior home and business projects in Montgomery County, MD. There's no better way to protect your home and business.