A Trusted Roofer in Bethesda, MD
Your home is your castle, your refuge from the world, and your biggest investment. Protecting your home isn't a job to be taken lightly. When you need roof repairs, gutters replaced, or siding installed, you can trust the professionals at Dominion Roofing Company. We've been serving homeowners and business owners in Maryland and Northern Virginia for nearly three decades and we aren't going anywhere.
Thank you so much for the excellent job!!! Use us as a reference any time . Crew did a nice job and were very good about clean up.
No matter the cause or the extent of your roofing needs, Dominion Roofing Co. has the expertise and experience necessary to complete your roof repair project, fast.
Contact us today to schedule a roof inspection or repair service. Call us at (301) 942-2009 in Maryland or simply complete the contact form to your right!
Roof Repair Bethesda MD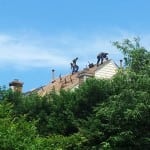 Dominion Roofing Co. has provided emergency roof pairs for storm-damaged roofs, water infiltration, roof leaks and more in the Bethesda, MD area for more than 25 years. We will do everything we can to repair your roof and secure your home as quickly as possible. Avoid costly interior repairs, such as rot and mold, with a no-obligation roof inspection by Dominion Roofing Co. We'll work with you to repair, or, if necessary, replace your roof, and help you stay within your budget. Contact us today to get started.
Roof Replacement Bethesda MD
Normal weather patterns over the years can take their toll on your home's exterior. Your roof, gutters and flashing can take a beating, your siding may need updated, and your home may be showing it's age. When you need the professional services of one of the DC area's top home roofing contractors, contact Dominion Roofing Co.
New roof in Bethesda, MD
This is a re-roof of a house in Bethesda using Certainteed Landmark Architectural shingles color: Moire Black
Other Exterior Improvements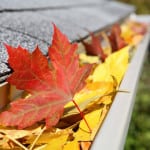 Although "roofing" is our middle name, we offer many other home exterior services as well. Our team of highly-trained professionals can assist with exterior improvements such as siding installation, gutters, soffits, and more!
At Dominion Roofing Co., we pride ourselves on service. Professional, knowledgeable, and reliable craftsmen won't finish the project until you're completely satisfied. As a full-service roofing company serving Bethesda, MD, we understand your needs and will go beyond the "quick fix".
Commercial Roofing in Bethesda, MD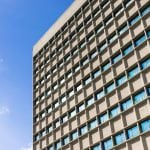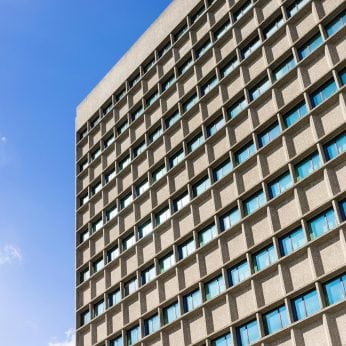 Call on Dominion Roofing Co for commercial roofing in Bethesda, MD as well. We approach your commercial repair and installation with the same care and dedication we offer our residential customers. We respect your need to run your business and will do everything possible to keep you operational. We honor your expectations, and will complete your project, no matter how big or how small, in a timely, efficient, and cost-minded manner.
Talk to A Trusted Roofer in Bethesda, MD Today!
If your home or business is in need of a roofing company in Bethesda, MD, trust the one roofing contractor you know will get the job done. Dominion Roofing Co. will make sure your roofing project is completed in a professional and timely manner. We offer free, no-obligation estimates, and will inspect your roof should you suspect a leak or water stain is the result of roof damage.