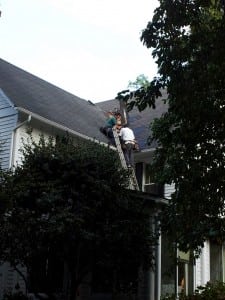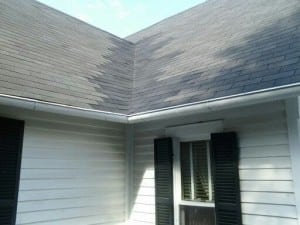 I want to share a repair done this week for a significant leak occurring on a historic house in McLean, VA: the old Balls Hill Mansion, completed in 1900 by the Balls family. Being southern people, the family fled south after the Civil War. The original house was destroyed, but family members returned in 1900 and rebuilt it on the old foundation. It is a unique place and a real piece of history. 
We traced the source of this particular roof repair to a valley where two roof lines meet. Almost every home has a valley, and this is a common area for a leak. To remedy the homeowner's problem, we first tore off all the shingles in the valley. We discovered that the wood was broken in many places, so we replaced the planks making a solid foundation. We then applied an ice and water shield leak barrier to the wood decking. Last, we installed new three-tab shingles to the area and resealed all needed areas at the tie-ins. The color was a bit off from the fading of the existing shingles, but this should blend in time. 
If you have a valley on your roof, we can inspect these areas for you with no obligation to you. Call 301-942-2009 today for a free estimate from Dominion Roofing Co.