Today I am reminded of the one roof item that can bring bright light on a sunny day or misery on a rainy day: skylights. I don't know how many times I've been on a leak inspection where the homeowner had a skylight leak issue (but it's a lot!)—from a stain with mildew to a drip to a whole ceiling caving in. These are often reoccurring leaks that the homeowner has previously attempted to repair or replace without achieving a lasting solution. Sometimes the homeowner gets so frustrated that they end up wanting to get rid of their skylights altogether. Just today in Bethesda, Maryland, I went on a leak call that turned out to be a skylight. Suffice it to say that while these beautiful roof fixtures can bring joy, they are too often a downright pain! Perhaps our tips in this article can help you get more enjoyment and less hassle out of your skylights.
Skylight Installation Tips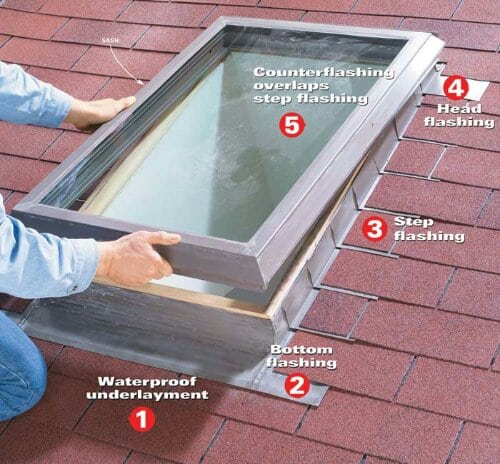 Before I give you my take on the best types of units, I want to stress the importance of the installation. I gave some insight into new roofing projects and what successful roofing should entail in a previous article. Just as in roofing installation, inferior materials and poor installation methods are the simple reasons why most skylights fail. One mistake that many roofers make again and again is caulking a leaky skylight. Many homeowners are okay with that method at first because it's cheap; the contractors like it because they can make easy money off of a five-dollar tube of sealant and ten minutes' worth of work. Everyone's happy. Unfortunately, however, these types of "fixes" usually only mask the problem—don't worry, it won't leak until it rains hard!
At Dominion Roofing, we approach all leak repairs the same way: with the intention of a permanent fix that will last the life of the roof. It may cost more initially, but a less rigorous process will leave you paying more in the long run as the summer storms roll in and you find yourself caulking the same skylights every other month. They say that sometimes you get what you pay for, and that is undoubtedly true for skylights.
Skylight Unit Types
If you require a replacement skylight, find a contractor with robust knowledge of the different types of units and the pros and cons of each. Here is our take on different skylights based on real-world experience and not simply manufacturer selling points.
Residential roofs typically use three types of skylight units: curb mount, deck mount, and flanged units. Of these, most newer constructed homes have deck mount skylights or flanged units. Roofers sometimes push specific units based on ease of installation or a lack of knowledge of the other types.
Deck Mount Units
Deck mount units use a curb frame that is molded out of aluminum and has everything self-contained (including flashings, etc.). The problem with this is that everything is such a tight fit that you cannot do much to repair the unit if you do have a problem. For example, skylights are leak-prone, and they provide an opportunity to apply ice and water guard, as we discussed in a previous post—but even this thin membrane is too much bulk for the tightly machined design of a deck mount.
Flanged Units
Next is the flanged unit. These are probably the worst design ever for a skylight! These units basically consist of a pane of glass attached to a giant rubber gasket that tucks under the shingles and gets a bead or two of caulk. You're primarily relying on the caulk to keep the water out. Guess what happens when that caulk dries and cracks? You got it, time to call a roofer.
Curb Mount Units
The unit that we prefer and that we think is superior is a curb mount unit. With these, you build a frame that is fixed to the roof and becomes permanent to the roofline. Then you wrap that frame with ice and water guard. You can also make your own fabricated flashing components. Then the skylight itself is free from the frame and drops on top. So if you were ever to get a new roof, you simply unscrew the top, pull the flashing, and make new fresh flashing to wrap the frame with new water guard. The other two unit types have to be pieced back the same way the manufacturer made them. Most times, you end up with tons of caulking for insurance (not good). I always tell people the curb mount unit is the one skylight where you control how water-tight it is; your workmanship is what counts. Of course, this is more effort and sometimes pricier—but wouldn't it be nice not to have an instant weather report every time you walk into the family room?