Maryland's Trusted Slate Roof Repair Experts
Slate is one of the oldest types of roofing materials in the eastern US.  Known for its beauty, high quality, and long lifespan, slate is the preferred roofing for most homeowners.  Period homes in Maryland and the DC area incorporate slate roofing for its historical authenticity, as well as aesthetic properties.  Even more recent real estate is enhanced by a slate roof.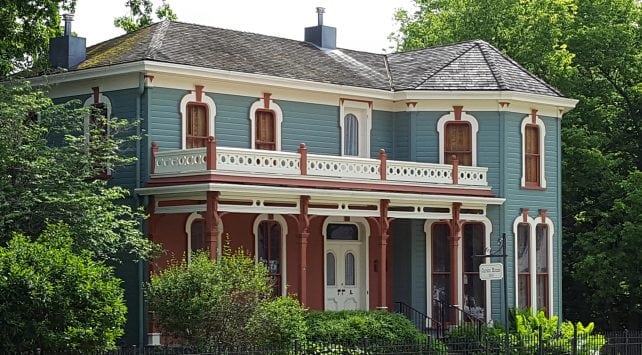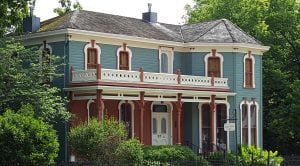 Slate roofing, because of its beauty and reliability, adds value to any home.  Alas, slate can be quite costly to replace, and for that reason, many people are scared away from slate roofing tiles.  If you do have a slate roof and you need replacement or repairs, there are few roofing companies that can actually work on slate roof repair.
Qualified Slate Roof Repair Contractor
Because of the fragile quality of slate, you want to ensure any work is done right the first time.  Making certain that your roofing contractor has experience in slate roof repair is extremely important.  Not only do you want the most qualified craftsmen, you want the company with the most experience in slate roof repair.
Trust the experts in slate roof repair at Dominion Roofing Co.  We have been serving our communities in Maryland for over a quarter century.  In that time, we've seen the damage a slate roof can sustain, given our seasonal weather changes, and we know how to perform quality slate roof repair.
Dominion Roofing Co. is conveniently located in Montgomery County, MD and we pride ourselves on customer satisfaction.  Our expert slate roofing contractors can accommodate all kinds of slate roof repair.  Efficient and skilled craftsmen will have your slate roofing repaired fast.
Slate Roofing — Long-Lasting and Beautiful
Homeowners across the area desire slate roofs for many reasons, chief among them, the low-maintenance and hardiness of the slate material.  This beautiful and natural roofing material is durable enough to withstand most of what Mother Nature sends, and, in many cases, will last 80 years or more.  Many of the areas slate roofs have outlasted the life of the homes they protect.
Because of their resilient nature, it's a rare occasion that your slate roof will need replaced.  Many times slate roof repair is all that's in order, which keeps your budget intact and your home protected.  The most common areas for slate roof repair is either missing or damaged flashing, or missing or damaged slate tiles.
When You Need Slate Roof Repair
When your tiles are damaged, they will need replaced, and the sooner the better, in order to avoid costly roof repairs or replacement, as well as damage to your home.  Many homeowners think it frivolous to contact a roofing company for just one or a few slate tiles, but you shouldn't wait until the damage becomes extreme.  Contact Dominion Roofing Co. at the first sign of damage to your slate roof.
Maryland's Slate Roofing Repair Experts
Slate roof repair can't be entrusted to inexperienced, or non-established slate roofing contractors.  Dominion Roofing Co. will come to your home, inspect your slate roof, and repair and replace as is necessary to preserve your roof and everything under it. You can trust Dominion Roofing Co. with your slate roof repair.
Leaks, and visible roof damage needs repaired immediately, before a small problem requires a big and costly solution.  Call the slate roofing repair experts at Dominion Roofing Co. at 301-942-2009 or send a message on our Contact page for your slate roofing needs.